TOPPIK FIBERHOLD SPRAY – REGULAR SIZE 118ML

Toppik Fibrehold Spray works through reinforcing the bond between Toppik Hair Fibres and your natural hair. This bond allows you to maintain the appearance of thicker and healthier hair throughout the day with no need for additional touch ups or maintenance. The Fibrehold Spray also goes a long way in reinforcing the durability of the hair fibres and maintaining their position throughout even the most demanding of activities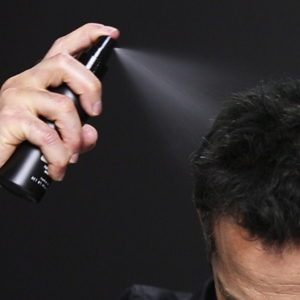 Toppik FiberHold Spray is a fine mist designed to strengthen the bond between Toppik Hair Building Fibers and your existing hair, producing longer-lasting results.
The magnetic attraction between the Hair Fibers and your hair is created by the naturally derived ingredients in the FiberHold Spray.


The ingredients seal in the Hair Fibers without leaving a sticky residue, so you don't have to worry about your hair feeling stiff after using this product. It's important to use the FiberHold Spray as your finishing step so you don't have to reapply any Hair Fibers.

The best part is that no one will be able to tell that you have thin or thinning hair and you'll be amazed by the longer-lasting results.

Toppik is an organic, non-allergenic range of products tested by dermatologists and millions of consumers world wide! We recommend that Toppik Fiber Hold Spray is used alongside Toppik Hair Fibers, the spray seals and protects the fiber and gives you greater confidence. Unlike ordinary hair sprays, this formula uses sophisticated alpha grade resins to join thinner hair and Toppik fibers naturally and durably.


Pro Vitamin B5 and naturally derived ingredients soften and condition both hair and Fibers optimally for a completely natural appearance.

As the spray is delivered through a pump rather than an aerosol, the application is more gentle. The spray enhances the static charge of the hair fibers and hair appears to have a natural healthy shine instead of a dull look which is caused by using any hair product. This pH balanced spray can even be brushed after application creating a softer style with great fiber holding power