Best selling Products
27 Apr 2020 15:00:00 Greg
Welcome
Hi there, how are you? Many thanks for dropping by our blog on our new website platform, 2020 has turned out to be a bit of a weird year so far don't you think? For us it started off with all kinds of funny named storms and here we are coming to the end of April going into May and the country is in lockdown due to a virus.It's like something out of a movie we have all seen.
I am sure being couped up, or in lock down or whatever you wnat to call it is having some kind of effect on you and as much as we know lots of people complain about work we are pretty sure that some of you are missing going to work just to moan about being in work. We all have to play our part though and do whats right for those you love and even those you don't know.

More people are turning to online shopping and while we have always been an online business we are seeing an upturn in people discovering our website and our products, which is actually good for us all. Now people are actually thinking and doing something about their hair care problems that perhaps they have been putting off for many reason and the biggest one being not wanting to admit they may have a hair loss problem in the first place.

The first thing we are going to tell you it's ok to have a hair loss problem and yes we know it can and does and may knock your confidence. The good news is that now you have found us we have many great products that can help.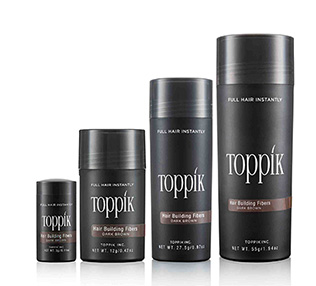 Lets start with the main product we sell Toppik hair fibres. Now hair fibres have been around a long time and in fact Toppik has been around over 30 years. Many new brands have joined and also left the hair fibre market for many reaons's and one of them being the fact that their product was not up to the standard of Toppik.

Toppik Hair Building Fibers are made of keratin protein, the same type of protein that is found in hair. Designed to make hair look thicker and fuller instantly.
Toppik Hair Fibers resist wind, rain, and perspiration for long-lasting results in all conditions. Available in five shades that can be mixed to match many hair colour's, Hair Fibers work for all hair types and textures. Also great for part lines, covering extension tracks and touching up roots between hair colour appointments. Easily washes out with shampoo.

Toppik's keratin Hair Fibers have a variety of accessories that will make applying them easy and also help to enhance the overall look of the hair.
The best way to know if Toppik hair fibres are for you is to try them we would suggest buying the small 12g bottle first and if it works for you then great. Rest assured we know how much using Toppik hair fibres can enhance a persons confidence. The great news is that anybody can use Toppik hair fibres not just men.Hair fibres can be used for those with thinning hair, alopecia, or those recovering from certain types of cancer treatments, You have nothing to lose by investing in your hair but lots to gain.

We look forward to you becoming our customer and hearing about the difference Toppik which is our best selling product has made to your life.
Watch the video below to see how Toppik works